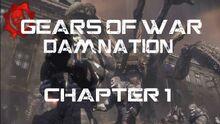 Gears of War Damnation is a fan fiction story written and commentated by Barricade2091. It tells the story of a normal person on the events of Emergence Day and his struggles as he tries to survive the Locust Horde with his family.
Each chapter will be a commentary for a gameplay that Barricade2091 recorded previously. It contains his commentary, sound effects, and various other things added to make the story come to life. It will be a weekly series and will contain various characters and events that take place during the events of Gears of War 1-3.
Prologue :
https://www.youtube.com/watch?v=9Xm56BErgKQ
Chapter 1 :
https://www.youtube.com/watch?v=4Bp3SddsaOA
Chapter 2 :
Ad blocker interference detected!
Wikia is a free-to-use site that makes money from advertising. We have a modified experience for viewers using ad blockers

Wikia is not accessible if you've made further modifications. Remove the custom ad blocker rule(s) and the page will load as expected.