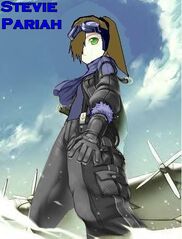 Stevie Pariah is a seventeen year old girl who joins Delta after all of the members of Omega (excluding her) were killed. She has brown hair and hazel eyes (as seen in picture). Though her right eye is covered by her hair. She was born in a city called Talina, but has no memories of it since her family moved to the country when she was only 2 months old. Her favorite weapon of choice is her Lancer's chainsaw bayonet seeing how she loves to cut things up. Her known relatives so far are Rick, her older brother, and her mom. She lost her family when she was nine years old and has been on her own since. She doesn't like Stranded at all; seeing how they didn't except her when she was on the streets.
Stevie is from Gears of War:All's fair in Love and War.
Ad blocker interference detected!
Wikia is a free-to-use site that makes money from advertising. We have a modified experience for viewers using ad blockers

Wikia is not accessible if you've made further modifications. Remove the custom ad blocker rule(s) and the page will load as expected.